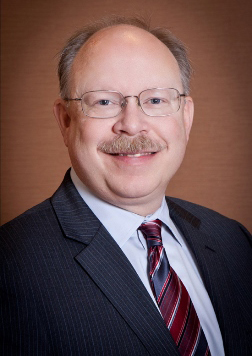 Richard C. Nelson
Shareholder
Minneapolis, Minnesota
612-375-5902 direct dial
612-339-7655 fax


rcnelson@arthurchapman.com
LinkedIn
Email
vCard
Print
Biography
Thanks for visiting my webpage. My name is Rick Nelson, and I've been defending workers' compensation cases for insurers and businesses for 30 years. (Yes, that's before personal computers existed.) My family says I eat, breathe, and sleep work comp. I must admit I do love it. It's always changing – the law, the cases, the medicine, the people. I enjoy pinpointing the issues, defining the goals, collaborating with my clients, and getting the case resolved, whether by settlement or trial.
In addition to the file work, I also enjoy the "academic" part of work comp. I have written a lot of materials, and I enjoy giving presentations to my clients, hopefully making your lives easier while having some fun along the way. I edit our firm's Workers' Compensation Newsletter. Understanding the business end of things is also important to me – as a firm shareholder, I take that aspect seriously, working to see things from both the employer and insurer perspective.
In my spare time, I enjoy traveling, hunting, backpacking, and wine.
Presentations
"Minnesota Case Law Update," Workers Compensation Seminar, Arthur, Chapman, Kettering, Smetak & Pikala, P.A., June 2022

"Closing Ceremony: Round Table Discussion of Hot Topics in MN and WI Workers Compensation" Webinar, Arthur, Chapman, Kettering, Smetak & Pikala, P.A., September 2021

"Dive Into the Deep End: MN Workers' Compensation Case Law and Legislative Update" Webinar, Arthur, Chapman, Kettering, Smetak & Pikala, P.A., July 2021

"Minnesota Workers' Compensation Case Law Update" Webinar, Arthur, Chapman, Kettering, Smetak & Pikala, P.A., August 2020

"Minnesota Case Law Update," Workers' Compensation Seminar, Arthur, Chapman, Kettering, Smetak & Pikala, P.A., June 2009, 2011-19

"Ethical Issues for Adjusters," CEU Institute for Gallagher Bassett Services, Inc., April 2015

"Ethical Issues for Adjusters," Arthur, Chapman, Kettering, Smetak & Pikala, P.A., November 2014

"The Life of a Workers' Compensation Claim From the Employer's Perspective," Wells Fargo Insurance Services, May 2014

"Hot Button Topics for Insurers/TPAs — What Your Colleagues are Asking," Workers' Compensation Seminar, Arthur, Chapman, Kettering, Smetak & Pikala, P.A., June 2011

"Managing Workers' Compensation Claims and Reducing Costs," University of Minnesota, Carlson School of Management, September 2008

"Basic Claims Investigation," Workers' Compensation Seminar, Arthur, Chapman, Kettering, Smetak & Pikala, P.A., Summer 2008

"Calculating PPD," Workers' Compensation Seminar, Arthur, Chapman, Kettering, Smetak & Pikala, P.A., June 2007

"Case Evaluations: Handling the Basic Case," Workers' Compensation Seminar, Arthur, Chapman, Kettering, Smetak & Pikala, P.A., August 2006

"In the Course of—Employee Activity," Workers' Compensation Seminar, Arthur, Chapman, Kettering, Smetak & Pikala, P.A., August 2005

"Settlements," Workers' Compensation Seminar, Arthur, Chapman, Kettering, Smetak & Pikala, P.A., August 2004

"Rehabilitation Issues," "Case Law Update and Legislative Update," Workers' Compensation Seminar, Arthur, Chapman, Kettering, Smetak & Pikala, P.A., August 2003

"Developments Regarding Apportionment of Liability and Claims for Contribution and Reimbursement," Workers' Compensation Institute, Minnesota Continuing Legal Education, 1998
---
Education
University of Minnesota Law School, J.D., 1985 (Honors: cum laude)
University of Minnesota, B.A., 1982
---
Bar Admissions
Minnesota, 1985
U.S. Court of Appeals, Eighth Circuit, 1985
U.S. District Court, District of Minnesota, 1985
---
Publications
"Managing Workers Compensation Claims and Reducing Costs," University of Minnesota, Carlson School of Management, September, 2008

"Developments Regarding Apportionment of Liability and Claims for Contribution and Reimbursement" (Contributing Author), Workers' Compensation Institute, Minnesota Continuing Legal Education, April 1998

"Apportionment, Contribution and Reimbursement" (Contributing Author), Workers' Compensation Desk Book, Minnesota Continuing Legal Education, October 1997
---
Professional Associations and Memberships
Defense Research Institute, Member
Hennepin County Bar Association, Member
Minnesota State Bar Association, Workers' Compensation Section Member
Minnesota Defense Lawyers Association, Member
---
License
Minnesota
Practice Areas
---
Legal Team
Kris A. Nelson
Paralegal
kanelson@arthurchapman.com
Darcy L. Byington
Legal Administrative Assistant
dlbyington@arthurchapman.com