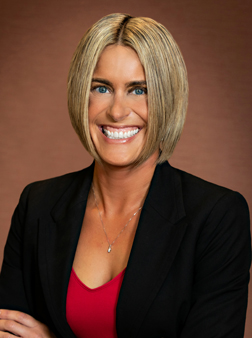 Susan E. Larson
Shareholder
Minneapolis, Minnesota
612-375-5990 direct dial
612-339-7655 fax


Hudson, Wisconsin
715-808-0514 direct dial
715-808-8083 fax


selarson@arthurchapman.com
LinkedIn
Email
vCard
Print
Biography
Assisting insurers, third party administrators, and self-insured employers in both Minnesota and Wisconsin, Susan concentrates her practice in the area of Workers' Compensation. Susan practices in Minnesota and Wisconsin and she regularly advises clients regarding situations involving the nuances of law between the two states.
Clients also count on Susan for the training of those familiar with either Minnesota or Wisconsin, but new to the other. Her work includes representing clients before the Minnesota Department of Labor and Industry, Minnesota Office of Administrative Hearings, Minnesota Workers' Compensation Court of Appeals, Wisconsin Office of Worker's Compensation Hearing, Wisconsin Labor and Industry Review Commission and Wisconsin Circuit Court System. In order to keep clients up to date on changes in the law, Susan regularly speaks at the firm's seminars and contributes to the authoring and editing of the firm's Wisconsin Worker's Compensation Update.
Susan is fluent in Spanish, has studied in Spain, and traveled to various Spanish speaking countries.
Presentations
"Taming the Lion: Wisconsin Worker's Compensation Case Law Update," "Walking the Tightrope: LIRC," "And for Our Next Act, We'll Need a Volunteer from the Audience," 2023 Workers Compensation Seminar, Arthur, Chapman, Kettering, Smetak & Pikala, P.A., June 2023
"Why Bother with Time Travel When the Present Is So.....Interesting," Workers Compensation Seminar, Arthur, Chapman, Kettering, Smetak & Pikala, P.A., June 2022
"Wisconsin Case Law and Legislative," Update Workers Compensation Seminar, Arthur, Chapman, Kettering, Smetak & Pikala, P.A., June 2022

"The Evolving Workplace: How to Navigate the New Mobile Workforce," 2021 Wisconsin Worker's Compensation Forum, October 2021

"Closing Ceremony: Round Table Discussion of Hot Topics in MN and WI Workers Compensation" Webinar, Arthur, Chapman, Kettering, Smetak & Pikala, P.A., September 2021

"Get Your Kicks: WI Worker's Compensation Case Law Update"

Webinar, Arthur, Chapman, Kettering, Smetak & Pikala, P.A., August 2021

"FOUL! How to Avoid and Defend Penalties and Bad Faith Claims in MN and WI Workers Compensation Matters"

Webinar, Arthur, Chapman, Kettering, Smetak & Pikala, P.A., August 2021

Ethical Issues for Adjusters Webinar, June 2021

"Wisconsin Worker's Compensation Case Law Update," Webinar Arthur, Chapman, Kettering, Smetak & Pikala, P.A., July 2020

"Wisconsin Worker's Compensation Case Law Update," "Text Messages, Furniture and Skin Grafts," and "Updates on Complex Medical Issues in Minnesota and Wisconsin Workers' Compensation: Medical Marijuana,

TBIs, Concussions, PTSD and Opioids," Workers' Compensation Seminar, Arthur, Chapman, Kettering, Smetak & Pikala, P.A., June 2019

"Employer Pas de Deux – Issues and Solutions When Dealing with Multiple Employers," 16th Annual Worker's Compensation Seminar, Wisconsin Association of Worker's Compensation Attorneys, Inc., July 2018

"Wisconsin Case Law Update" and "Evaluating Misconduct/Substantial Fault Cases," Workers' Compensation Seminar, Arthur, Chapman, Kettering, Smetak & Pikala, P.A., June 2018

"Wisconsin Case Law Update" and "The Top Questions We Receive in Minnesota and Wisconsin," Workers Compensation Seminar, Arthur, Chapman, Kettering, Smetak & Pikala, P.A., June 2017

"Wisconsin Legislative Update" and "Wisconsin Case Law Update," Workers Compensation Seminar, Arthur, Chapman, Kettering, Smetak & Pikala, P.A., June 2016

"This Does Not Pass the Smell Test: Investigation" and "The Final Leg: Claim Resolution," Worker's Compensation Seminar, Arthur, Chapman, Kettering, Smetak & Pikala, P.A., June 2015

"Game On: Rehabilitation Issues," "Dorothy, We Aren't in Minnesota Anymore: Wisconsin Arising Out Of and Wisconsin Case Law Update" and "The Final Leg: Wisconsin Case Evaluation and Settlement," Workers' Compensation Seminar, Arthur Chapman, Kettering, Smetak & Pikala, P.A., 2014 Seminar, Arthur, Chapman, Kettering, Smetak & Pikala, P.A., June 2015

"Not Everything That Happens At Work Is Work Related," A Unique Seminar for Worker's Compensation Professionals, Wisconsin Worker's Compensation Forum, Inc., October 2014

"Top Ten Tips for Wisconsin Claims, Wisconsin Case Law and Legislative Update," Workers' Compensation Seminar, Arthur Chapman, Kettering, Smetak & Pikala, P.A., 2014 Seminar, Arthur, Chapman, Kettering, Smetak & Pikala, P.A., June 2014

Co-Chair of Wisconsin Association of Worker's Compensation Attorneys Spring Seminar, February 2014

"Multiple Employment Situations, Wisconsin Case Law Update," Workers' Compensation Seminar Arthur, Chapman, Kettering, Smetak & Pikala, P.A., June 2013

"Current Trends in Minnesota's Workers' Compensation: Perspectives from the Petitioner and Defense," Hennepin County Bar Association, May 2013

"Wisconsin Indemnity Benefits," Workers' Compensation Seminar, Arthur, Chapman, Kettering, Smetak & Pikala, P.A., June 2012

"Wisconsin Case Law Update and Case Evaluation," Workers' Compensation Seminar, Arthur, Chapman, Kettering, Smetak & Pikala, P.A., June 2011 and June 2012

"Ethical Issues for Adjusters," CEU Institute, 2011

"Investigation of Claims," Society for Human Resource Management, 2010

"Minnesota Case Law Update," "Wisconsin Case Law Update," "Wisconsin Case Evaluation" and "Border Battle," Workers' Compensation Seminar, Arthur, Chapman, Kettering, Smetak & Pikala, P.A., June 2010

"Wisconsin Case Law Update," "Wisconsin Case Evaluation," "Wisconsin Economic Downturn" and "Minnesota – The Economy & Workers' Compensation: Tightening the Belt, Saving Money, and Obtaining Reimbursement," Arthur, Chapman, Kettering, Smetak & Pikala, P.A., June 2009

"Differences between Minnesota and Workers' Compensation Law," Arthur, Chapman, Kettering, Smetak & Pikala, P.A., June 2009

"Wisconsin Case Law Update and Wisconsin Benefit Basics," Workers' Compensation Seminar Arthur, Chapman, Kettering, Smetak & Pikala, P.A., June 2008

"Minnesota Case Law Update," Workers' Compensation Seminar, Arthur, Chapman, Kettering, Smetak & Pikala, P.A., June 2007
Honors
Fellow, Litigation Counsel of America
Rising Star®, Thomson Reuters, 2015
Language
Spanish
---
Education
William Mitchell College of Law, J.D., 2006 (Honors: magna cum laude)
University of Minnesota, B.S., 2003
---
Bar Admissions
Minnesota, 2006
Wisconsin, 2007
U.S. District Court, District of Minnesota, 2006
---
Publications
"Special Employment Situations," Arthur, Chapman, Kettering, Smetak & Pikala, P.A. Workers' Compensation Update, June 2011

"Complex Regional Pain Syndrome: Scheduled or Unscheduled," Arthur, Chapman, Kettering, Smetak & Pikala, P.A. Workers' Compensation Update, April 2011
---
Professional Associations and Memberships
Diversity Law Institute, Member
Hennepin Bar Association
Minnesota Defense Lawyers Association
Minnesota State Bar Association
Minnesota Women Lawyers
State Bar of Wisconsin
Trial Law Institute, Member
Wisconsin Association of Worker's Compensation Attorneys, Elected to Director for District 1, effective January 1, 2024
---
Licenses and Certifications
Licenses
Minnesota
Wisconsin
Certification
Qualified Family Law Neutral under Rule 114
Practice Areas
---
Legal Team
Bao Vang
Paralegal
bvang@arthurchapman.com
Kris A. Nelson
Paralegal
kanelson@arthurchapman.com
Elisa L. Blume
Legal Administrative Assistant
elblume@arthurchapman.com
Sheila M. Moe
Paralegal
smmoe@arthurchapman.com